Madrid garbage strike ends after 12 days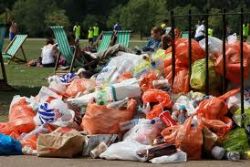 A 12-day strike by street sweepers that left Madrid littered with garbage was set to end on Sunday after private maintenance companies cancelled plans to lay off a fifth of the Spanish capital's street cleaners.
The cleaners walked off the job on November 5 after three companies with maintenance contracts with city hall sought to freeze salaries and lay off 1,134 out of 6,000 workers.
Garbage-strewn streets and parks put off residents and tourists alike and reflected Spain's 5-year economic and budget crisis, which has led to cuts in public spending on schools, hospitals and maintenance.
Spain's economy has just begun a tentative turn-around, but one in four workers are still without a job.
The companies with street-cleaning contracts, units of infrastructure firms FCC, Sacyr and OHL, said they could not maintain staff levels with the cutbacks.
After marathon talks from Friday to early Sunday, union representatives agreed to a new deal under which no workers would be laid off, but every worker would have to take 6 weeks without pay each year through 2017.
"We're very satisfied because the lay-offs have been withdrawn," Roberto Tornamira, secretary general of the services branch of the UGT labor federation, told reporters.
A workers' assembly was called upon ratify the agreement on Sunday.
Over the weekend temporary emergency workers escorted by police began to clean Madrid's streets after Mayor Ana Botella said the companies had failed to comply with contractual obligations to maintain a minimum of 40% service.
The strike did not affect garbage collection from homes and businesses, but public trash bins on the streets and in parks were not emptied.