S&P Review Shows Increased Confidence in Spain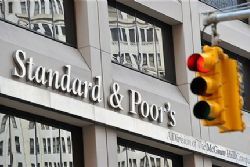 Standard & Poor's agency cut the Netherlands' credit rating on Friday, reducing the euro zone club of full triple-A nations to just 3, while rewarding Spain for efforts to reform its public finances.
S&P lowered the Netherlands, which is suffering from an anaemic economy, slumping house prices and falling consumer confidence, to "AA+" from "AAA". This left Germany, Luxembourg and Finland as the only members of the 17-nation euro zone with the top rating from all 3 leading credit agencies.
However, it raised the outlook for Spanish debt to stable from negative and upgraded bailed-out Cyprus, highlighting diverging fortunes within the common currency bloc.
The fiscally conservative Dutch government has long been an ally of Germany in taking a tough line on the euro zone's "budget sinners" which run large deficits.
Now, S&P has stripped the Netherlands of its coveted top long-term rating to reflect its bleak economic growth prospects, while Spain appears to be finally emerging from the depths of economic despair, albeit slowly.
Dutch Finance Minister Jeroen Dijsselbloem, who heads the Eurogroup of euro zone finance ministers, said he was disappointed by S&P's decision but there would be few consequences for the cost of financing the country's debt.
"The Netherlands is at the top of the world when it comes to financing itself. We pay very low interest rates, and there are very few countries that have a higher rating than we do," he told RTL TV.
S&P said the Dutch decision was due to a worsening of growth prospects. "The real GDP per capita trend growth rate is persistently lower than that of peers at similarly high levels of economic development," S&P said in a statement, while affirming the Netherlands' short-term debt rating at A-1+.
A crisis in Italy and Spain has eased over the past 6 months but Europe is still struggling to achieve the economic growth it needs to bring down unemployment and deal with debt burdens that in some countries are above 100% of annual national output.
The Dutch, who have consistently stressed the need for budget austerity in the bloc's struggling southern half, have been forced into several rounds of their own cuts to meet the EU's target of a deficit of 3% of GDP.
Despite billions of euros of budget cuts, the Netherlands is still expected to exceed the target this year.
Last month the Dutch central bank warned that weak bank lending was holding back economic recovery. Consumer demand remained fragile, exacerbated by a property market crisis in which house prices have fallen a fifth since their 2008 peak, and by deep government spending cuts, it said.
As in other euro zone countries, the austerity measures have provoked much political wrangling and public anger. The Dutch economy, which is emerging from its 3rd recession since the global crisis began in 2008, grew just 0.1% in Q3.
This was in line with the average for the euro zone, where a French recovery fizzled out and German growth slowed.
S&P forecast the Dutch economy would contract 1.2% in 2013, before growing 0.5% next year and gradually accelerating to 1.5% by 2016.
Rival agencies Moody's and Fitch still rate the Netherlands as triple A.
But Rabobank said it did not expect S&P's move to have any long-lasting market impact and played down the risk of Fitch and Moody's following suit, given their most recent statements.
ROGRESS
Spain, whose ratings have plummeted over the last 2 years as it struggled to rescue banks and cash-strapped regional governments, by contrast recently revised up its 2014 growth forecast to 0.7% from 0.5% previously.
S&P is the 2nd of the 3 main credit ratings agencies to lift its Spanish outlook in less than a month after Fitch also switched to stable from negative in early November.
The agency affirmed Spain's BBB-/A-3 long and short-term foreign and local currency sovereign credit ratings, saying Spain's external position was improving as economic growth gradually resumes.
"Other credit metrics are stabilizing, in our view, due to budgetary and structural reforms, coupled with supportive euro zone policies," the agency said.
Thanks to wage moderation and harsh economic reforms, Spain has regained part of the competitive edge lost during a decade-long property boom. Its exports are rising and its net lending position against the rest of the world is expected to turn positive for the first time in decades.
On Thursday, the national statistics institute said household spending, which accounts for two thirds of the country's economic output, has also started to recover, a result which could herald a more sustainable recovery.
Moody's, like S&P, rates Spain one notch above junk while Fitch rates the country one notch higher.