Murcia's President Resigns, Corvera Pressures Denied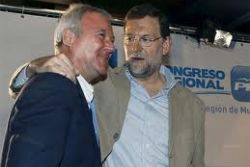 Spain's Prime Minister Mariano Rajoy arrived in Murcia on Saturday morning to attend the convention of the regional Partido Popular to pay tribute to Ramon Luis Valcarcel following his decision to step down as the regional President in April 2014.
President Valcarcel became head of the Partido Popular in Murcia in 1991, and later voted to become President of the Region in 1995, becoming one of the longest serving of Spain's regional premiers.
Despite having such a long political career, it is easy to speculate on the reasons behind the decision to step down, and party leaders were quick to play down recent issues such as the ongoing debacle at Corvera Airport and problems with the arrival of the AVE high speed rail network.
There are also suggestions that Valcarcel has stepped aside in order to assume a new politics career representing Spain and the PP in Brussels.
Recommended Reading
• Murcia President : "Corvera Airport Will Not Be Abandoned"