Mas offers "alliance" if Rajoy approves referendum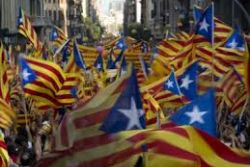 In his year-end address, Catalan regional premier Artur Mas on Monday offered to become "a great ally" if PM Mariano Rajoy allows Catalans to vote next year in a status referendum.
"We are asking you to allow us to vote," Mas said. "And we don't want the [Spanish] state to see us as an adversary, and much less as an enemy. When we could we have always been - and want to continue, now and in the future - an ally, a great ally."
After he told the Italian daily La Repubblica on Friday that an independent Catalonia would remain outside the European Union, the regional premier has been trying to temper any pessimism among the separatists' ranks.
The pro-independence parties have insisted that Mas look for formulas outside the EU treaty that would allow Catalonia to remain in the bloc, and which could help an independent Scotland as well.
Rajoy has said that the referendum will not take place.
Recommended Reading
• "Catalonia Will Not Remain Part of EU" : President Mas
• Spain Sabotaging Independent Scotland Referendum
• Spain Says NO as Catalonia Referendum Date Set
• Spain to Veto EU Membership of Independent Scotland