Spain cuts 2014 disbursements to power distributors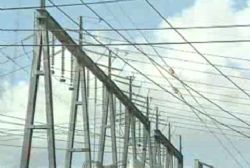 The Spanish government will disburse €4.57 Bln in regulated revenues for electricity distributors in 2014, down 10% from a year ago and below expectations.
In the state bulletin published on Saturday, the government outlined the payment for the 3 main power distributors as follows: Endesa would receive €1.98 Bln, Iberdrola €1.57 Bln and Gas Natural €723 Mln.
Banco Sabadell said in a note to clients that the total was 6.6% below the amount expected by the market and was negative for the distributors.
Regulated distribution revenues account for 25% of earnings before interest, taxes, depreciation and amortisation (EBITDA) for Endesa, 18% for Iberdrola and 12% for Gas Natural, it said.
The funds come out of power bills paid by consumers, which are divided into regulated and non-regulated items.
Spain also set the regulated rates for transportation at €1.66 Bln, with the vast majority going to national electricity grid operator Red Electrica, in line with the amount flagged by the company last month.
Further Reading
* 1 in 4 Complained to Spain's Electricity Providers in 2013