Spain Appeals to UN Over Gibraltar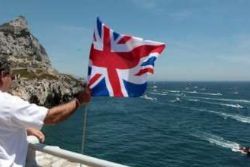 Following their complaint to the EU over Gibraltar, Spain has launched the second of a two-pronged attack against the British overseas territory.
In November of last year an amendment to the Basel Convention concerning the control of cross-border movements of hazardous wastes and their disposal saw Spain launch a complaint the the Secretary General of the UN concerning the disposal of waste on Gibraltar.
The clause in question states that the implementation of the Convention, and any amendments, concerning Gibraltar "can not be interpreted as recognition of any rights or situations involving matters not included in Article 10 of the Treaty of Utrecht of 13 July 1713, signed by the crowns of Spain and Great Britain."
The statement circulated states says that "Gibraltar is a Non-Self-Governing Territory for whose international relations the Government of the UK is responsible and which is subject to a process of decolonization in accordance with the relevant decisions and resolutions of the General Assembly."
It also states that Gibraltarian authorities are "local in character, and exercise competences exclusively over internal affairs that originate in and are based on the powers allocated to and conferred on them by the United Kingdom, in accordance with its domestic legislation and in its capacity as the sovereign State upon which depends the said Non-Self-Governing Territory."
Spain argues that "consequently, any involvement by the Gibraltarian authorities in the implementation of the Convention "shall be understood to take place exclusively within the framework of the internal affairs of Gibraltar".
According to UN documents the procedure envisaged in the arrangements relating to Gibraltar authorities in the context of "Mixed Agreements", which was agreed by Spain and the UK on 19 December 2007 together with 'Agreed Arrangements relating to Gibraltar authorities in the context of EU and European Community Instruments and Related Treaties, of 19 April 2000' applies to the hazardous wastes convention.
Read the timeline of the ongoing conflict over Gibraltar by clicking the link > HERE <