UK urges Spanish press to censure Scotland independence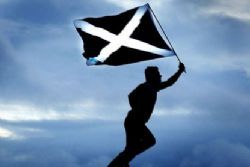 Britain's Foreign & Commonwealth Office (FCO) has asked Spanish press to publish criticisms of Scottish independence.
The UK Embassy in the Spanish capital, Madrid, has asked Spanish paper Tenerife News to print a memo about the "challenges" if Scotland leaves the UK.
The request, by the embassy's director of communications, Simon Montague, has been made in a letter published by the English-language paper.
The Scottish government said the letter proves that London is trying to stir hostility overseas to Scotland's independence, despite UK Prime Minister David Cameron's claim that the decision is purely "a debate between Scots."
The Scottish National Party's (SNP) Westminster leader, Angus Robertson, condemned the UK government over the letter, saying British embassies should be promoting the country's interests abroad rather than undermining it.
"This is exactly the kind of behavior that demonstrates why Scotland must be able to represent our own interests as an independent nation on the world stage," he stated.
Scotland's First Minister Alex Salmond has already accused Spanish PM Mariano Rajoy of "plotting" with Cameron to raise questions about his country's independence.
The UK Foreign Office, however, said the letter is simply information for people living abroad.
Reports published by The Sunday Herald earlier last month suggested that the Foreign Office is urging Britain's allies to raise questions about an independent Scotland's membership in international bodies such as NATO and the EU.
The independence referendum is due to be held on September 18, when Scots will decide on whether they should break away from, or stay with, the UK after more than 300 years of political union.
Further Reading :
* Spain 'Will Not Interfere With Scotland Referendum'
* Expat Scots Threatened Legal Action Over Referendum
* Spain Accused of Sabotaging Independent Scotland Referendum