Border Control Modification Considered Between Gibraltar and Spain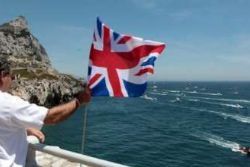 The European Commission is currently analysing how Gibraltar and Spain will implement recommendations made by its experts who visited the border last year.
Both the Gibraltar Government and the Spanish Government have submitted detailed documents to the Commission - the former via the office of the UK permanent representative in Brussels - setting out their respective action plans at the border.
The Commission experts urged both sides to work to ease frontier flow and minimise border queues, while at the same time ensuring tight controls on contraband cigarettes.
Although details remain scant, the Chronicle understands the investment will lead to a high-tech transformation of the border in the coming months.
New equipment ranging from biometric scanners to face recognition technology will enable law enforcement officers on both sides to build a detailed, accurate picture of people and vehicles crossing the border.
"On 24 January, 2014, Spain submitted information to the Commission on how the country intends to implement the recommendations," a Commission source told the Chronicle. "This information is currently being assessed."
The Gibraltar Government submitted its action plan that same week, but a top-level delegation led by Chief Minister Fabian Picardo has briefed senior officials in person on the measures that Gibraltar is putting in place.
At 5pm yesterday Mr Picardo - who was accompanied by deputy Chief Minister Joseph Garcia, Chief Secretary Ernesto Gomez, chief legal advisor Michael Llamas,QC, UK representative Albert Poggio and John Rodriguez, the Collector of Customs - briefed Stefano Manservisi, the Italian official who since 2010 has been the Commission's Director General for Home Affairs.
Also present at that meeting was Miroslaw Zielinski, the Director of Customs Policy at the Taxation and Customs Union Directorate.
At the meeting, the Gibraltar delegation explained face-to-face a range of new measures to clamp down on tobacco contraband, one of the key issues highlighted by the EC officials in their report.
They include enlarging so-called 'special zones' where tobacco laws are tighter; increasing Customs and police operations targeting smugglers; banning the sale of cigarettes in housing estates close to the border; and plans to improve border infrastructure to introduce Customs checks on outbound traffic and monitor flows with high-tech cameras and equipment.
Officials also revealed that contact had been made with Spanish authorities to establish a formal mechanism for the exchange of border information, although Spain had yet to respond.
Read the timeline of the ongoing conflict over Gibraltar by clicking the link > HERE <