150 African migrants break through border into Spain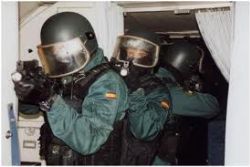 Around 150 irregular immigrants on Monday managed to jump the fence separating the Spanish exclave of Melilla from Moroccan territory, the government delegation there said.
They were part of a group of more than 250 sub-Saharans attempting to cross together at around 6.30am in the area known as Villa Pajares, located between two border checkpoints. Most were nationals of Cameroon.
This is the first mass attempt to storm the fence since February 6, when at least 15 Africans drowned at the Ceuta border crossing after the Civil Guard fired rubber bullets, triggering a stampede into the water.
"This morning, unlike other times, the law has been observed in Melilla. We have had no immigrant complaints," said José Palazón, spokesman for the non-profit group Prodein.
The 150 migrants who made it across immediately divided into groups and spread out through the city. "During the jump, immigrants acted in a highly coordinated manner to avoid the anti-intruder system," said the government delegation in a statement.
Earlier News :
* 30,000 African Migrants Waiting to Enter Spain