IAG confident on 2015 profit target as Iberia turns around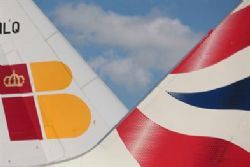 British Airways-owner International Airlines Group said it was on track to more than double profit over the next 2 years, as a turnaround at its Iberia unit gains traction and it drives down costs across its business.
IAG swung to a profit last year, boosted by a strong performance at BA and on revenue from newly acquired low-cost carrier Vueling, which competes with Ryanair and easyJet in European short-haul.
Operating profit was €770 Mln before exceptional items last year, beating an analysts' consensus forecast of €765 Mln from a €23 Mln loss in 2012.
IAG's target, which it raised by 12.5% in November, is to lift operating profit to €1.8 Bln for 2015, through cost cuts at BA, Iberia's recovery and Vueling growth.
Shares in IAG, which have doubled over the last 12 months, fell 3% to 438 pence by 6.06 a.m. ET.
"They're in line with consensus but one got the impression that there was an expectation that given their cost measures and the strength of North Atlantic that they could have beaten consensus," RBC analyst Damian Brewer said.
Reconfirming its 2015 profit target on Friday, IAG said it expected to make steady progress this year by cutting costs.
"They're still guiding to a 2015 figure of €1.8 Bln, so they obviously have a lot of work to do this year. In that context with the stock having doubled, and these numbers only being in line, you're going to get some profit taking," Cantor analyst Robin Byde said.
Chief Executive Willie Walsh said the company was heading in the right direction to be able to reinstate its dividend.
"Our intention is to get the business to a position where it can pay a dividend and sustain the significant capital expenditure program that we have embarked on," he said.
"Clearly with the progress we've made in 2013 over 2012, and our restatement of our goal for 2015, we're certainly on track to achieve that situation," he told reporters on a call.
Iberia, which has dragged on group earnings since the merger with BA in 2011, narrowed its operating loss by €185 Mln to €166 Mln in the year.
"Iberia's making good progress. It's ahead of where we believed it would be in 2013 and is on line to be profitable in 2014," Walsh said.
IAG has agreed with Spanish pilots on cutting labor costs. That and new capacity at BA would drive down units costs and lift profits, he said, noting that performance was good across its markets, except in the Spanish domestic market.