Rajoy offers last-minute support for Merkel's choice in EU vote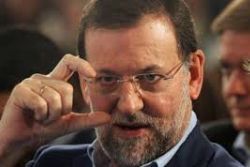 PM Mariano Rajoy on Friday joined other leaders of Europe's center-right alliance to pick a top candidate for the EU ballot later this year.
Following his penchant for mystery, the Spanish leader left his choice up in the air until the 11th hour, when he ordered his delegates to vote for Jean-Claude Juncker, the former head of Luxembourg, who is also German Chancellor Angela Merkel's preferred candidate.
Unity was the key word at the European People's Party (EPP) convention in Dublin, where Rajoy made no mention of Spain's battles with Germany over austerity measures, despite the fact that Merkel was also in attendence.
Speaking to the assembled EPP members, which also included Polish leader Donald Tusk, Rajoy asserted that if Europe is pulling out of the crisis "it is because of the EPP's policy."
"This is the worst crisis since the end of World War II," he said. "We are overcoming it by meeting our individual commitments and joining our efforts. This is starting to bear fruit, and we should feel proud."
Then, after suggesting that his Partido Popular has had to deal with a difficult "heritage" from the previous PSOE administration in Spain, Rajoy added that "the brave decisions have been made by the EPP governments. We need to keep working in that direction."
The Spanish leader also took the opportunity to address an international audience to obliquely criticize the sovereignty drive by Catalan nationalists back home.
"The future of the EU hangs on these elections. We are choosing between continuing to build the European project or undoing it, as the anti-Europeans want. The EPP's goal is to defend peace, freedom, peaceful coexistence and the integrity of national states."
Rajoy regularly makes veiled references to the Catalan independence project and his team has worked hard to drum up European opposition to it. The European Commission has already said that a new state would be automatically ejected from the EU and have to reapply for admission.
The Spanish PP was one of the very few delegations to arrive in Dublin without clearly supporting any candidate to replace Jose Manuel Durao Barroso as president of the European Commission. Rajoy maintained the intrigue until the end to be in a better negotiating position in the power share that will result from the May 25th vote.