Expats 'do not feel valued enough to vote in UK elections'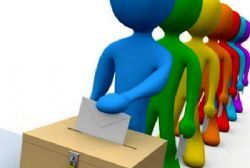 Britain's large community of expatriates are fiercely loyal to the UK, but the majority do not register to vote in elections because they feel undervalued by the government.
That is one of the main findings of a new report outlining proposals to increase the number of Britons abroad who are registered to vote in UK elections.
The cross-party group of MPs undertook the Making Votes Count due to concerns that of the 5.6 million British nationals estimated by the Institute of Public Policy Research to be living abroad, a mere 23,366 were registered to vote in UK elections as of the end of 2011.
That, in case you were wondering, represents just 0.417% of the expatriate population, although it is important to remember that only those aged over 18 and who have lived abroad for less than 15 years rare eligible to vote. Estimates used by the group suggest this figure is in the region of 3 million, but that would still mean that the number registered to vote is less than 1%.
Subsequently, the report noted: "This level of disenfranchisement in the United Kingdom would be deemed totally unacceptable.
"It is clear that many UK nationals living abroad remain fiercely loyal to the UK.
"Given that, we recommend following the practice of some other countries in emphasising the importance of the nation's citizens overseas and stressing the value of their votes and commitment to the UK."
Among the proposals are a drive by the Cabinet Office to ensure that expats are fully aware of their right to vote and a feasibility voting of electronic voting over the internet - something that is not currently permitted, with the only alternative to voting in person being to download the form, print it out, fill it in and post it back.
"Our citizens living overseas should be made to feel valued. That is an essential prerequisite for encouraging them to vote," the report concluded.
However, it did not call for an overhaul of the rule stipulating that expats are no longer allowed to vote after living outside of Britain for 15 years, despite the controversy that surrounds it.
Recommended Reading
* Campaigners urge Expats to register for European vote