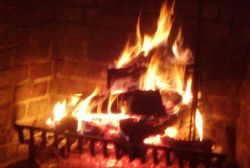 For some people living in Spain, finances can be tight and the long cold Spanish winter can prove to be finacially draining, however you might be able to claim the UK Winter Fuel Allowance even though you live in Spain.
The Winter Fuel Allowances are currently worth around 125 to 400 Pounds Sterling per year, depending upon your personal circumstances, and paid by the UK Government to qualifying people over the age of 60 in order to help them with the extra cost of heating their homes.
Although the new UK Government has undertaken to 'review' who is likely to be eligible to receive these payments in the near future, claims from qualifying pensioners living in Spain are still being considered and still being paid out.
Why is the new UK Government thinking about stopping it ?
The Winter Fuel Allowance was introduced by the Labour government in the 1990's and intended to offer assistance to pensioners who could not afford to heat their houses after a series of particularly harsh winters in the UK.
However, due to the current economic crisis the government has been 'reviewing expenditure' and realised that in excess of 14 Million pounds sterling is spent on Winter Fuel Payments to expats alone, and are now questioning the validity of making such payments under these circumstances.
So why have the payments been honoured to date ?
As UK citizens we are entitled to live work and receive benefits in other countries within the EU. This means that, under EU law, benefits which have been acquired in one member state are equally entitled to receive them if they move to another member state within the EEA, with just a few exceptions to the rule.
How to qualify and apply for this allowance
You should automatically get the Winter Fuel Payment without applying if you have reached the qualifying age by 26 September 2010*, and are 'ordinarily resident' in the UK during the specified qualifying week. (For example, in 2009 the qualifying week was the 20-26 September).
The main Winter Fuel Payment qualifying conditions under UK legislation are that people must be aged 60 or over and ordinarily resident in Great Britain during a specified qualifying week. There is no need to be in receipt of a social security benefit in order to qualify.
The decision to continue making payments to people who had first qualified in the UK and then moved to another EEA country was made in 2002. This was following discussions with the European Commission when we agreed that Winter Fuel Payments should be classified as an old age benefit and the payments were covered by the Article 10 of regulation (EEC) 1408/71, which is the export article. The view of the European Commission was that persons who become entitled to Winter Fuel Payments under British law retain that entitlement if thereafter they go to live in another part of the EEA. This regulation does not enable a person to become entitled to a Winter Fuel Payment after leaving the UK.
This provision is still relevant -although the press document 12369/09 states that the new Regulation 883/04 would enter into application on 01 March 2010, this did not happen as it could not be applied until its implementing regulation was complete (Article 91). The new date for its application was 01 May 2010 (a date that has been and gone!)
There has been talk of the regulation that a person cannot lose their right to a social security benefit merely by living in the territory of another Member State. However, the wording about export of benefit under the new Regulation is no different to that in the existing Regulation 1408/71. In fact page 3 of Doc 12369/09, reiterates the fact that the basic principles of the current Regulation 1408/71 are maintained, in particular the export of benefits already acquired under a Member State's legislation. Therefore after the application of the New Regulation in May 2010, the rules about becoming entitled to Winter Fuel Payment in the UK before paying it abroad have not changed, as there is nothing in EC Regulation 883/04 which helps a person gain entitlement to this benefit from abroad.
* Over the next decade the qualifying age is set to gradually rise from 60 to 65 years old.
** Click > HERE < for the form to claim Winter Fuel Allowance for Winter 2014 / 2015 as a UK Citizen resident in Spain, alternatively, you can call the Winter Fuel Payment Helpline on 0845 915 15 15 for further assistance.
Recommended Reading
* UK Announces Changes to Winter Fuel Allowance Entitlement for Expats
* Winter Fuel Payments to UK Expats hit record highs