Austerity Protests Across Spain Continue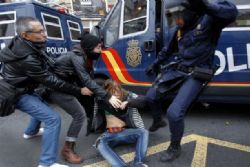 Thousands of people in Spain have taken part in further protests against the government's latest round of austerity measures.
Demonstrations in Madrid and 53 other cities on Thursday were attended by over 100 different organisations, including 2 of the country's largest trade unions, to demand an end to tax increases and pay freezes.
The government claims the reforms are working and it has promised the EU it will reduce the public deficit to 5.8% of GDP this year, 4.2% in 2015 and 2.8% by 2016.
However, unemployment currently stands at 26% and the charity Caritas warned last week that welfare cuts and high unemployment had led to an "unprecedented rise" in poverty.
The Spanish protests were held on the eve of a large demonstration to be held in Brussels by the European Trade Union Confederation.
The association estimates that at least 50,000 workers from more than 20 countries to protest against the economic policies currently being pursued across souithern Europe.
During an anti-austerity march in Madrid last month, protesters clashed with police to leave more than 100 hundred people injured and dozens arrested.
Recommended Reading :
* Spain 2nd worst in EU for child poverty
* Spain sees rich-poor divide widen