Spanish court makes first conviction of bankers since start of crisis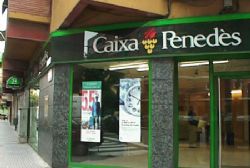 For the first time since the economic crisis began, a group of bankers has been found guilty of financial crimes in Spain.
But the former leaders of Caixa Penedès, a Catalan savings bank that received €915 mln in state aid before being bought out by another bank, may be able to avoid going to jail despite their joint 5-year conviction.
Instead, former director general Ricard Pagès Font and his 3 aides have promised to return the €28.6 mln in retirement plans that they granted themselves before leaving the lender. Caixa Penedès was ultimately bought out by Banco Sabadell in October 2013 after receiving the bailout money.
Judge José María Vázquez Honrubia has taken into account the attenuating circumstance that the defendants admitted to the facts. Pagès had awarded himself €11.6 mln; Santiago José Abella got €5.7 mln, and there was €6.1 mln for Manuel Troyano and €4.8 mln for Juan Caellas.
The ruling describes the former bank officials as guilty of mismanaging the lender. Standing before the judge, the accused were told that "you have acted in a malicious, insidious, deceptive way towards society. By bypassing the savings bank's control mechanisms, and using a president and a board who were there practically for decorative purposes, you put you personal interests ahead of social interests, abusing the trust placed in you as executives."
The 4 executives, along with the deceased head of human resources Jaume Jorba, awarded themselves these sums "without basis in their contracts and without authorization or knowledge by Caixa Penedès' administrative bodies."
They are just some of several savings banks officials to have come under fire for awarding themselves hefty bonuses as their companies struggled to survive in the wake of the Spanish property market crash, to which they had been heavily exposed. Beginning in 2010 many of the country's savings banks were forced by the government to merge to avoid a chain reaction of bankruptcies.
Some lenders had to be completely nationalized. This was the case with Bankia, the result of the merger between Caja Madrid and six other lenders. The former head of Caja Madrid, Miguel Blesa, is now the target of a court investigation into alleged wrongdoing in connection with the sale of preferential shares to small investors who lost their life savings, as well as the ruinous acquisition of the City National Bank of Florida.
The failed Valencian lender CAM also wants prison terms for two former execs who raised their own salaries by several orders of magnitude while driving the lender into a spectacular bankruptcy.
Recommended Reading :
* Spain to try former CAM executives over Bank's collapse