Bankia Nominated Spain's Worst Company & Worst Advert 2014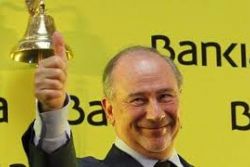 Spanish Consumer Association FACUA has named Bankia as the winner of the "Worst Advert of the Year" award again.
The lender received the highest number of member votes with 35%, ahead of Ono; Gas Natural Fenosa; Movistar and Endesa.
The complete list of nominees for FACUA's 2014 "Worst Company" awards can be read by clicking the link here
The advert which attracted the ire of Spain's consumers was Bankia's "Encouraging your projects, everything will get going" campaign, which ran despite the Bank being forced to take a bailout from the Spanish Treasury.
Bankia not only 'won' the "Worst Advert of the Year" award last year, but also won the "Worst Company" in both 2013 and 2014 aswell.
In 2013 the campaign slogan was "A whole future together", where the advert went on to describe "An account in which, if all of us contributes with the best we have, all of us will be the owners of what is to come", being launched just weeks after crashing.
2014's 2nd worst advert of the year, with 24% of the vote, came from Endesa's "100 Year of Free Electricity" campaign, after the company launched a competition that implied that the winner would never have to pay the electricity bill again. This was later revised to €700, which according to Endesa was "the equivalent of 1 year's free electricity service calculated according to the average consumption of a medium sized home in a year".
(€700 per year, or €58 per month : How does this compare with your Electricity Bill ?
Other 2014 nominees for the award were the fake "free mobile phone" campaign by Ono, the fake "Flat tariffs" by Gas Natural Fenosa and the "Movistar Fusion 4G" campaign by Movistar, stared by children.
Recommended Reading :
* Spain's worst mobile phone operator : Survey
* Movistar nominate worst Spanish company 2012