Basques form human chain in call for Independence from Spain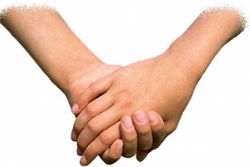 Tens of thousands of Basques held hands on Sunday to form a 76-mile chain stretching across the northern Spanish region calling for the right to hold a vote on independence. Organizing group "It's in Our Hands" estimated some 100,000 people joined the chain, which echoed a similar demonstration Sept. 11 last year in Catalonia, another Spanish region with a large independence movement.
Demonstrators draped in red-white-and-green Basque flags raised their linked hands as helicopters flew over the line stretching from the city of Durango to Pamplona some 76 miles away, which is not in Basque Country but is in the neighboring Navarra region considered part of Basque cultural and linguistic territory. A long economic crisis and political corruption scandals have triggered broad public disenchantment with key institutions that anchor Spain's democracy, formed in the 1970s after a long dictatorship.
Support for the once-dominant Socialists and center-right People's Party has fallen dramatically, independence movements are surging in Catalonia and the Basque Country, and on Saturday thousands marched in Madrid and other cities calling for the abolition of the monarchy that was reinstated in 1975.
The Basque Country - with its own language and culture - has traditionally sought greater self-rule from Spain.
In recent years Basque leaders negotiated more tax independence from Spain while separatist demonstrations have been muted. Violent separatist group ETA, weakened by arrests and dwindling popular support, declared an end to its armed struggle in 2011.
But a democratic independence movement has gained force in recent months, partly inspired by massive demonstrations in Catalonia. Basque lawmakers on May 29 adopted a symbolic declaration of self-determination, stepping up a push for more powers.
Catalan President Artur Mas told Reuters last week he was forging ahead with plans for a Nov. 9 independence vote that the central government vows to block on constitutional grounds.