Spain to take legal action against former Bank Managers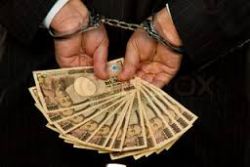 Spain's FROB fund, which handles the government's stakes in bailed out lenders, said on Tuesday it is preparing to take legal action against several former savings bank managers concerning the financial crisis.
FROB, which along with Spain's deposit guarantee fund has spent over EU 61 Bln rescuing ailing banks in recent years, has over the past year been reviewing how the lenders were managed and investigating suspicious operations.
"The work ... is close to being finished in most cases, which should allow for new legal actions come the autumn," Fernando Restoy, Chairman of the FROB told a parliamentary commission.
Spain's savings banks, which were usually controlled by local governments or other public authorities, were hit hard by a 2008 property crash, after which many of their ill-advised real estate investments turned sour.
Their troubles forced Spain to ask Europe for EU 41.3 Bln in aid to help the weakest in 2012, and most of these "cajas" have now disappeared, after they were absorbed by rival banks.
Few bankers have so far been tried or investigated over the 2008 financial crisis as courts find it hard to pin the blame on any individuals.
Probes into failed savings banks in Spain have only yielded convictions in the case of one small savings bank, Caixa Penedes, whose office network was eventually bought by Banco Sabadell.
Four former directors were found guilty in May of improper management by awarding themselves close to EU 30 Mln in pension payments, though they avoided jail as they had repaid more of the funds and prison sentences were short enough to be suspended under Spanish law.
Restoy did not detail which lenders would be affected by the new legal actions.
Bankia, the biggest bailed out lender still in state hands, is already being investigated by Spain's High Court over how it was managed in the run-up to its share market flotation in 2011, a year before it nearly collapsed.
Meanwhile several former executives from the Caja de Ahorros del Mediterraneo (CAM), another small savings bank from the Valencia region which needed a costly bailout, are set to go on trial.
Recommended Reading :
* Spanish court makes first conviction of bankers since start of crisis
* Spain to try former CAM executives over Bank's collapse