TeliaSonera flags Spain exit and cuts sales forecast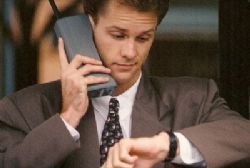 Nordic telecom operator TeliaSonera said it may quit the highly competitive Spanish market as it cut its sales outlook for the year on Thursday because of lower revenues in the country.
Yoigo, in which TeliaSonera has a 76.6 percent stake, is Spain's smallest mobile operator and European telcos are trying to bulk up via deals to combat shrinking revenue and tough competition.
could attract interest from Britain's Vodafone and France's Orange, which are already in the country, analysts said.
TeliaSonera predicted that group sales excluding acquisitions will be slightly lower than last year, having earlier forecast stable revenue.
"Competition is fierce, forced by a strong convergence trend that puts pressure on our mobile-only business," said TeliaSonera Chief Executive Johan Dennelind, who described Yoigo's 7% share of customers as "sub-scale".
"Consequently, we are reviewing our future presence in the Spanish market," he added.
Analysts said Yoigo could fetch EU1-1.5 billion.
Orange's chief executive said last week he saw possible acquisition targets in Spain, where his firm is the third largest mobile operator. Orange earlier considered buying Spanish broadband operator Jazztel but was put off by its high valuation.
Vodafone, Spain's number two mobile operator behind incumbent Telefonica, in April said it might be interested in Yoigo once it became clear how tough the European regulator would be on tie-ups.
Vodafone is also flush with cash after the $130 billion sale of its stake in U.S. operator Verizon Wireless. It finalised the acquisition of Spanish cable operator Ono in July, in a sign of how mobile operators need broadband assets to be able to sell "convergent" bundles of mobile and fixed phone, Internet, and television.
The other shareholders in Yoigo are Spanish construction firms ACS and FCC, who own 17% and 3.4%. Schneider Electric owns a 3% stake through information technology firm Telvent.
COMPETITION CONCERNS
Consolidation in Spain would follow deals approved in recent months by European regulators that took Ireland and Germany from 4 to 3 mobile carriers.
Brussels imposed remedies to protect competition and ward off price rises in those 2 cases, and the rulings could provide a template for Spain.
The clearer regulatory stance may make it easier for TeliaSonera to sell Yoigo than the last time it tried in 2012 when talks foundered on price. Bidders Vodafone and Orange were worried about concessions regulators would demand.
According to data from Citigroup, Yoigo earns 5.7% of mobile service revenue in Spain, while Telefonica takes 40%, Vodafone 30%, and Orange 24.3%.
An exit from Spain would mark the end of a more than decade-long presence for the firm, originating with a stake held by Finland's Sonera with which Telia merged in 2002.
Dennelind, who took the helm in September last year, is putting his mark on state-backed TeliaSonera. He inked a deal in early July to buy Tele2's Norway business for 5.1 billion Swedish crowns ($744 million).
He also pointed to potential deals in Denmark, a small market with four mobile operators where Telia's margins are less than 15%, compared to group levels around 35%.
"Denmark is in the middle of our core Nordic-Baltic strategy where we want to be strong, where we want to be sustainable profitability-wise over time, so we are keen to look at options in Denmark," Dennelind said on a conference call.
TeliaSonera shares were down 2.4%  at 1205 GMT, while the European telecoms index was down 1.3%.
While Norway, Spain and Denmark are small assets at the group level, this new strategic direction could deliver additional value, in our opinion," Raymond James, which rates TeliaSonera shares as outperform, said in a research note.
Q2 sales were 25.0 billion crowns, in line with expectations and down 1.2% on a comparable basis.
The company's earnings before interest, tax, depreciation and amortisation (EBITDA), excluding non-recurring items, were 8.84 billion Swedish crowns versus the mean forecast of 8.78 billion in a Reuters poll and a year-ago 8.93 billion.
Recommended Reading :
* Spain's Telecoms Act "WIll Bring Down Prices"