Merkel supports Spain on issue of Catalan Independece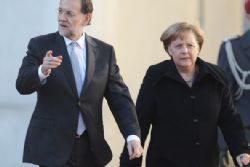 German Chancellor Angela Merkel yesterday expressed her support for the Spanish government which is trying to block a Catalan vote on independence.
Meanwhile, Catalan President Artur Mas says people have the right to decide on breaking away from Spain and he is forging ahead with plans for a referendum that Madrid vows to block.
Earlier this week the Catalan Premier said he had a conversation with the Spanish PM offering to postpone the referendum on independence in exchange for a dialogue on the issue, while Rajoy claimed he dismissed the issue as he did not believe the offer made by Mas to be serious.
Recommended Reading :
* Mas may be ready to delay Catalan vote if Rajoy will talk
* Rahoy dismisses offer of talks on Catalan votes as 'not serious'