Caixabank and Santander frontrunners in Catalunya Banc sale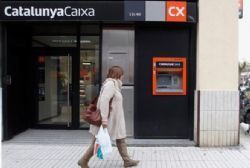 Spanish banks Caixabank and Banco Santander are the frontrunners to buy bailed-out lender Catalunya Banc in the government's third attempt to sell it, sources with knowledge of the process said on Friday.
The government plans to auction Catalunya Banc in the next few weeks after it sold a big mortgage portfolio from the lender to U.S. investment fund Blackstone earlier this week in a deal backed by fresh state funds.
Caixabank and Santander declined to comment. A source close to Caixabank confirmed the board had given the go-ahead to put forward a bid on Thursday. Spanish bank BBVA has also expressed interest in the business.
true
French bank Societe Generale could also be interested in the lender, several financial sources said. Societe Generale declined to comment.
Spain had to ask Europe EU 41.3 Bln in 2012 to shore up banks like Catalunya Banc that were unable to cope with a property market slump.
It has already failed twice to sell Barcelona-based Catalunya Banc through auctions, even after handing it EU 12 Bln to rebuild its capital.
Potential buyers had wanted more state aid or guarantees to shield them from the lender's soured loans. The state hopes the slimmed down lender will be more attractive to a potential buyer after the sale of the portfolio to the U.S private equity firm.
Recommended Reading :
* Spain to start auction of nationalized lender Catalunya Banc