Doorstep lender eyes on Spanish market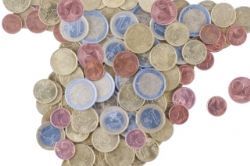 UK personal loans company, International Personal Finance, has reported significant growth for the first of 2014, yet it share prices dropped 6% as soon as news broke that it was planning to enter the Spanish market.
The Group said it identified Spain as a major market for the company as it has a population of 47 million people, many of whom have been turned down by the high street lenders.
IPF's chief executive Gerard Ryan said: "Spain has been through the mill. It's had a really tough time.
"As a result Spanish banks are disinclined to lend to our target group. They won't serve this market in future. We did a lot of consumer testing which was very favourable."
IPF looked at several European markets, but Spain was the only one that fulfilled its criteria.
"In Greece, there is demand to borrow, but not the same willingness to repay. The Greek people feel aggrieved by what has happened," said Mr Ryan.
"Spain came out well ahead of all the other countries."
IPF hopes to build up to 400,000 Spanish customers once the operation becomes mature in 5 to 8 years' time, making it a significant new market for the group.
Mr Ryan said the Spanish market will require a higher level of investment and a longer period to break-even compared with its latest launches in Lithuania and Bulgaria due to the sheer scale of the country.
This spooked the market and the shares closed down 6.4%, a fall of 37.5p to 548.5p.
RBC Capital Markets analysts said the Spanish expansion, while positive, is likely to cause consensus downgrades until the country starts contributing to profit.
Mr Ryan argued that Spain will generate substantially greater returns and will become a significant engine of growth in the future.
He expects to invest £3m in Spain in 2014 and a further £8m in 2015, with a targeted break-even in 2018.
Mr Ryan was speaking yesterday as the group announced an 11% rise in underlying pre-tax profits to £47.1m following a seven per cent increase in customer numbers to 2.6 million people.
After new market investment costs and weaker foreign exchange rates, profits fell 55% to £24.5m.
"We are pleased with the 
performance. These are a very good set of results and we are making good progress on our journey to grow the business," said Mr Ryan.
The group said its strategy of issuing larger, longer-term loans to well-established customers is working well.
Extending the term of the loan allows customers to borrow larger sums of money while paying the same affordable, weekly instalment.
Recommended Reading :