Tornado threatens Ryanair flight to Spain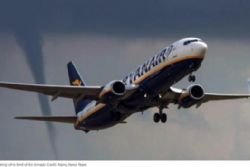 A photograph of a Tornado threatening to touch down on the runway as a Ryanair flight takes off has gone viral on Twitter this afternoon.
The phenomena occurred just as the aircraft left the runway at East Midlands Airport this morning, bound for Palma Airport, Mallorca.
There were no reports of any damage on the ground, and the flight continued as normal.
Those sweltering in the heat of Spain may be blissfully aware that many areas of the UK are under extreme weather and flood warnings in the aftermath of Hurricane Bertha.
Recommended Reading :
* Ryanair fly family bound for Spain to Latvia by mistake