Barca criticised by Catalan separatists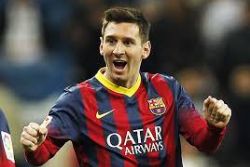 Spanish league leaders Barcelona have come out in support of the proposed November 9 referendum on Catalan independence, according to radio station RAC1 on Friday.
The referendum has been called by Artur Mas, head of the Catalan regional government but has been ruled to be illegal by Spain's Constitutional Court, on the request of PM Mariano Rajoy.
It is still not clear if the referendum will go ahead or not.
RAC1 said that Barca president Josep Maria Bartomeu has sent a latter to the organizers of the referendum promising the club's "unequivocal support."
According to the Catalan language station, the letter stated: "This club will always be on the side of our country (Catalonia). We support the right to self-determination because this is one of the fundamental rights of the people."
Barca had been criticized by Catalan separatists earlier this week for not coming out clearly in favour of the referendum. The club has traditionally been regarded as a pillar of Catalan nationalism and a defender of the Catalan language and culture.
Online polls have suggested that most Barca fans would vote for independence if the referendum was held.
On Tuesday Javier Tebas, the president of the Liga de Futbol Profesional, which organizes the Spanish Liga, said that Barca and crosstown rivals Espanyol would not be able to play in La Liga if Catalonia became an independent state.
Espanyol have not said whether they are in favour of the referendum or not.
Barca defender Gerard Pique raised eyebrows last week by saying that he was in favour of the referendum. No other Barca player or director has come out publicly in favour of the independence vote.
Pique was jeered and told to leave the Spanish national team by some fans when training with La Roja in Madrid on Monday, before Spain travelled to Slovakia for Thursday's Euro 2016 qualifying match which they lost 2-1.
Recommended Reading :
* Catalonia moves forward with referendum
* Spain's constitutional court declares referendum illegal