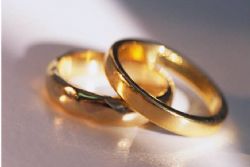 It is possible to arrange civil or religious marriages between two foreigners or a foreigner and a Spanish national provided that all of the required Paperwork is taken care of. In addition, the Spanish Government is currently undergoing a change to allow Non-Catholic faiths to have a religious ceremony.
Until that proposed change has been fully finalised (and subject to the agreement of both the Church and individual Priests), it is only possible to have a civil marriage blessed in a non-catholic church.
ROMAN CATHOLIC MARRIAGES
These are a matter for the local Archbishop in the area of the forthcoming marriage and, in general, they require a baptism certificate and a statutory declaration by the parents of the English party to the effect that their son/daughter is single. Formalities do, however, vary significantly from parish to parish and the requirements should be checked well in advance with the local Priest.
CIVIL / NON-RELIGIOUS MARRIAGES
The Civil Registry in Madrid states that the current requirements are as follows...
A birth certificate (accompanied by a sworn translation)
Passport
Consular registration Certificate
Consular Certificate of No Known Impediment to the marriage
It is also a general requirement that you show you are a legal resident in Spain and this is done by providing a recently issued copy proving 'empadronamiento' or registration at the local town hall.
Formalities may again vary in different Registries in the various Towns and Provices around Spain and applicants should always check which documents are required.
Once the necessary documents have been submitted, a notice of intention to marry is displayed on a Consular notice board for 21 days. The notice itself is sworn by the applicant and can only be accepted if he/she has been residing for a clear 21 day period in the Consular district where the notice is displayed.
Where one of the parties to the forthcoming marriage is resident in the UK and will come to the marriage ceremony shortly before it is to take place they should approach the nearest Spanish Consulate in the UK to obtain information regarding the procedures involved. If proof of UK residence is needed, a letter can be obtained from the local Electoral Registration Office to the effect that the UK resident is on the electoral register for that particular year.
It is important to note that paperwork can be lengthy and time consuming and sufficient time should be allowed for this - especially when you are hoping for a Summer wedding!
CONSULAR MARRIAGES
There are no facilities for marriage at a British Consulate in Spain. Some foreign consulates do provide a service for their nationals however.
GIBRALTAR
Where marriage in Spain is not practical, Gibraltar can offer a possible alternative. It is quite straightforward and the ceremony takes place in English. It is advisable but not essential to book the registrar several weeks ahead. This can be done by telephone.
The paperwork should be completed the previous day as a special license is required for non residents. This includes a sworn statement of eligibility at a local lawyers office. Full details can be obtained from the registers office: Registrar, Marriage Registry, 277 Main St., Gibraltar. Tel +350 72289 or +350 78303