'Anti-protest law' demonstrations in Madrid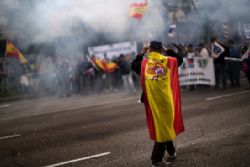 Thousands of Spaniards have taken to the streets of the capital today in protest over the country's so-called 'anti protest law, which is currently under consideration in parliament.
Using the hashtag #StopLeyMordaza (Stop The Gag Law), Spaniards took to Twitter to denounce the proposed new law, with the nortorious15M 'Indignados' rallying behind the movement, returning to Madrid's Puerto del Sol once more.
The bill includes controversial measures such as fines up to EU600,000 for unauthorized protest outside parliament, with similar fines for those caught filming or photographing any Police personel taking part in any demonstration.
Interestingly, nobody from the Government seems to have considered how a repeat of the Protests held by the Police force in October 2012 would be treated under the proposed new law.
Recommended Reading :
* Spain spends EU1 bin on riot gear
* Spain : Protests and the suffocating embrace of the law