Brussels reduces Spain's 2015 growth forecast from 2.1% to 1.7%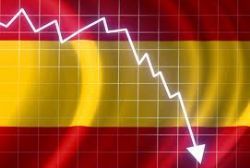 Despite the relatively decent state of the Spanish economy compared with the recent recession years, optimistic promises of a robust recovery are vanishing again.
The European Commission on Tuesday drastically reduced its 2015 growth forecast for Spain as a result of the recession in Italy, stagnation in France, sluggishness in Germany and an apparent inability by the euro zone to activate the right policies to pull the economy out of the hole, in contrast to the United States.
Spain is now predicted to grow 1.7% next year, down from the forecast of 2.1% that the Commission made four months ago and three-tenths of a point lower than its prediction last month.
The reduction is partly the result of domestic troubles but also partly because of outside ones.
High levels of public and private debt mean pressure to continue with the unburdening process continue to drag back growth, says Brussels.
Spain is accumulating trade deficits again despite vain promises of growth via exports. Despite a significant internal devaluation, Spanish export markets are not pulling the economy out of the crisis.
As for the euro zone in general, Brussels is forecasting growth of 0.8% this year and of 1.1% in 2015.
But the reliability of these figures is questionable, given that just a few months ago the Commission was talking about 1.2% growth for 2014 and 1.7% for next year.
Among Europe's largest economies, only Spain is showing growth numbers worthy of a recovery, although the unemployment figure puts a damper on any optimism that might result from Tuesday's prediction.
"Unemployment continues to be too high," reads the Commission's report. Spain's jobless rate continues to hover around 24%.
Recommended Reading :
* "Spain's economic recovery accelerating" : Rajoy
* Government ups growth forecasts to 1.2% in 2014 and 1.8% in 2015