Eurozone Slips into Deflation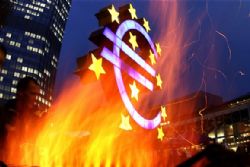 New figures released today by Eurostat have confirmed that the Eurozone has slipped into deflation and confirmed expectations by the markets after Spain and Germany released their figures in December.
The slump has largely being blamed on falling oil prices, resulting in prices overall falling as much as 0.2% in December 2014 compared to December 2013.
However, it's not all doom and gloom. Deflation linked to lower oil prices is actually a good thing as it filters through to the cost of energy prices and people feel the benefits in their pockets giving them more money to spend. But a prolonged period of deflation could be detrimental if businesses and the public expect prices to fall further and postpone their purchases to a later date, which could trigger recession.
Similarly, prolonged deflation has the potential to increase the burden of debt for many Eurozone countries already buried deep. Debt burdens rise when prices fall as VAT and other price related tax receipts plummet leaving governments with less money to cover their obligations.
The ultimate danger then ensues when the ECB enters into another round of quantitive-easing, a technical term for printing and pumping more cash into the economy, underwritten as government debt which interest is then paid upon, further exasperating the debt burdens on EU countries.
Here in Spain, whilst we are all enjoying cheaper motoring and a few extra Euros in our pockets for "lunchtime beers and tapas", this period of feeling slightly flush could be short lived and unfortunately must end if we are to avoid recession.