Spain's ruling PP tops election poll, Podemos pips PSOE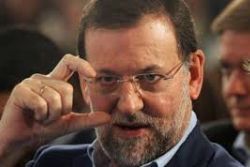 Spain's anti-austerity Podemos party would come second in an election to the ruling Partido Popular but ahead of the PSOE, a poll showed on Wednesday, fuelling uncertainty about the country's political stability.
No clear majority would emerge from the vote, forcing the main parties to try to form a coalition, according to the poll from the Centro de Investigaciones Sociologicas (CIS), the nation's most closely-watched political survey.
The next Spanish general election is due by year-end.
Support for the conservative Partido Popular and the Socialist PSOE, the two dominant parties since Spain's return to democracy in the late 1970s, has fallen to a record low after a series of corruption scandals and tough welfare cuts.
This is mostly benefiting to one-year-old Podemos, whose left-wing policies and surging pre-election popularity have drawn comparisons with Greece's new Syriza rulers.
The PP would take 27.3% of the vote, while Podemos would get 23.9% and the PSOE 22.2%, according to the CIS survey carried out in early January through a poll of 2,500 people.
With newcomer Podemos now grabbing the biggest share of the leftist vote, the Socialist Party may have to decide between backing a grand coalition with its centre-right PP opponents or a left-wing government lead by Podemos.
Like Syriza in Greece, Podemos is hoping to win power by overtaking the two leading parties and emerging as the dominant party on the left.
Recommended Reading :
* 100,000 people march in Madrid to support Podemos
* Spain's Podemos slips in opinion poll