20% of all Expat Gambians resident in Catalonia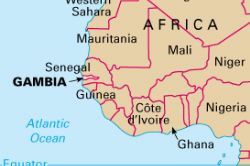 More than 16,000 Gambians are currently resident of Catalonia and "are contributing considerably to the development of their native country", according to the Vice President of the Barcelona Metropolitan Council (AMB), Jordi Portabella.
The comments were made on Friday as the AMB completed the donation of 26 School buses to the Government of Gambia.
Statistics taken from the year 2012 show that there are an estimated 22,000 Gambians living in the country, making Spain one of the main destinations for migrating Gambians, with reports suggesting that the reason behind this is no more than Spain being the closest European country to Africa.
The number of additional Gambians living illegally in Spain can only be guessed at, with Many illegal immigrants originating from Gambia die each year while attempting to reach Spain by sailing in simple wooden fishing boats.
Although Gambian Nationals are spread throughout the country, by far the largest concentration is in the region of Catalonia - the richest of all Spanish regions.
However, immigration to Spain fell after the onset of the economic crisis in 2008 and the subsequent increase in unemployment.
Statistics from the World Bank statistics show that the number of Gambians living overseas increased from approximately 35,000 in 2000 to approximately 65,000 in 2010, although some estimates quote up to 90,000.
Recommended Reading :
* Over 100 illegal immigrants cross border into Melilla
* Young Kazakhs pursue their dreams in Spain