Young Kazakhs Pursue Their Dreams in Spain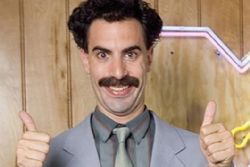 Some 700 Kazakhs who made the long journey from the Central Asian steppes to the Mediterranean shores of Spain have become fully integrated members of Spanish society without losing touch with their roots.
"Truly, the world is the same, people are different, but the differences are not vital," says acclaimed violinist Erzhan Kulibaev, who arrived in Madrid a decade ago with a scholarship to study at the Queen Sofia School of Music.
Kulibaev's compatriot Darhan Taurbay was only 13 when he came to Spain.
"My family wanted me to be educated in Spain," he said. "That's why I completed my secondary education at a boarding school in Madrid."
He is sure his Spanish diploma helped him gain admission to Madrid's Polytechnic University where he studies architecture.
"Studying away from my usual environment has helped me to focus on my goals. I concentrate more and work with more precision," he said.
Now 22, Taurbay says he feels "like a Kazakh on some occasions, on others, like a Spaniard."
Comparing the customs of his homeland and his adoptive country, Taurbay talked about the way Spaniards greet each other.
"Here it's normal when you meet a woman to kiss her twice, a kiss on each cheek," he said. "That would be unthinkable in Kazakhstan, even if she is your best friend's girlfriend. When you are introduced to a woman, you just ask her name, you don't even offer your hand."
Taurbay's heart is still torn between Madrid and Almaty.
"The magic of Almaty, with the mountains protecting the city, is something very special," he said. "It pulls you in like a magnet."
Kulibaev, an award-winning violinist who has performed with leading orchestras around the world, arrived in Madrid 10 years ago.
"I like both countries a lot and I love them the same," he said. "Kazakhstan and Spain have given me plenty: to be what I am. In Spain, I studied for free for 10 years with a great professor. Before that I had studied in my country."
"My profession has taken me to numerous countries and I have concluded the world is the same everywhere," he said. "I have a phrase that defines what I feel: 'The world is a big Kazakhstan.' People may be different, but the differences are not vital. Human interests are the same everywhere."
Tatiana Tartacheva says she was drawn to Spain by Formula One racing and two-time champion driver Fernando Alonso.
"Since I was a little girl I was interested in Spain, I wanted to visit this country and live here," the 24-year-old Kazakh woman said.
She came to Spain two years ago to earn toward a master's degree in Economy and Innovation Management.
"I like the outdoors in Spain. You can leave Madrid and a few kilometers away you find a natural environment. That doesn't happen in my city," she said.
One difference between Spain and Kazakhstan that stands out for Tatiana is the average age for marriage.
"In my country, people get married at 20, 25, while in Spain that doesn't happen until people are between 35 and 40," she noted.
Berik Bekmurzayev, a journalist, arrived in Madrid a few months ago to report on Spain for news agency Kazinform and says he admires the country's architecture.
"I enjoy contemplating the beauty of old buildings," he said. "In my country, the Mongols destroyed them all, and the most outstanding buildings date from the Soviet era."
Recommended Reading :
* Foreigners resident in Spain down 7.82% on 2012
* 15 Mln Foreigners registered with Spanish Social Security