Ciudadanos expected to trump regional polls in Spain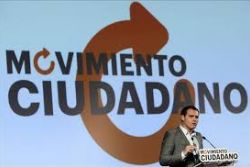 Ciudadanos is emerging as a Spanish political party that may be decisive in the March 22 elections in Andalusia, the nation's most-populous region, according to a Sigma Dos poll published in El Mundo newspaper.
The Barcelona-based group has support to win 11 or 12 seats in Andalusia's parliament, the poll shows. The Socialists - who currently lead the administration - would capture 41 to 44 of the 55 needed for an absolute majority, according to the survey of 1,800 people conducted March 9-12.
Spanish politics, traditionally dominated by a two-party system of the Socialists and the People's Party, is in turmoil after the emergence of Podemos, a one-year-old group that's led in several national polls, forcing politicians to consider new alliances to remain in power.
The popularity of Ciudadanos, whose 11.4% support compares with 3.4% in January, is key because Andalusian Socialist leader Susana Diaz has promised not to ally with either the People's Party of Prime Minister Mariano Rajoy or with Podemos, according to El Mundo.
The Sigma Dos poll showed the PP winning 32-36 seats, Podemos getting 16-18, and IU four, with a margin of error of 2.35 percentage points.
Recommended Reading :
* Spain general election poll shows 4 parties practically tied
* Spain's traditional parties set to suffer in Andalusia : Poll"