Castellon expects new Ryanair routes to result in EU16 Mln to economy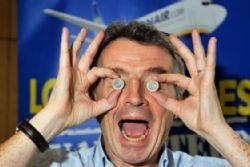 The Provincial Government of Castellon estimates that the establishment of Ryanair flights between Castellón Airport and Stansted and Bristol will result in EU16 Mln for local tourism.
Further Estimates suggest 150,000 overnight stays can be expected - of which 30,000 will be from British tourists - and who will spend an average of EU109 per person per day, which is well above they national average expenditure.
Vice President of Tourism, Andrés Martínez, stressed that "in calculating the expected growth in tourism in Castellon due, statistics from previous years have not been considered due to their not been an airport in the equation. 2014 saw the number of British Tourists grow 20% on the previous year to reach 33,000 - mostly through the summer months - and it is expected that this can only grow further in 2015."
Further indicators suggest the growth of tourism in the province, with an increase in average daily spend per head of 3.8%.
The Provincial Tourism Council for Castellon has already planned 6 trips to London and Bristol this year to promote the province to tour operators.
Recommended Reading :
* Ryanair launches routes from Castellon to Bristol and Stansted
* Castellon Airport "has no possibility of EU aid"