Spain arrests 9 in operation against Islamists in Catalonia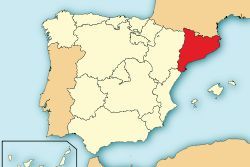 Spain arrested nine people in the northeastern region of Catalonia early on Wednesday as part of an operation against Islamist militants, local police said.
"The arrested are accused, amongst other crimes, of belonging to a terrorist organization," a spokeswoman for the Catalan police said.
Spain has arrested around 30 people in relation to suspected militant activity this year as part of efforts to stop the radicalization of young Muslims and prevent them joining jihadists in Syria or Iraq or attacking targets at home.
Recommended Reading :
* Spain arrests teenagers trying to travel to Syria
* Islamisation 'stronger in Spain than Germany'