Spain's best March for employment since 2001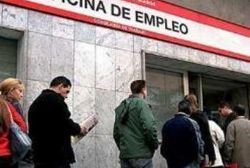 Social Security affiliations, considered a measure of job creation in Spain, grew an average 160,579 last month, making it the best March since 2001, when the records began being kept.
Before that, statisticians did not register the monthly average of affiliations, instead taking note of the absolute number at the end of the month, the Labor Ministry explained.
T
he latest figure means that Q1 of 2015 ended with a rise in the number of contributors to the national welfare system, the first time this has happened since the economic crisis began in early 2008.
A total 199,902 people left the Social Security system in January, while 96,909 signed up in February, leaving a net number of nearly 60,000 affiliations for the first three months of the year, according to contributors' figures.
The Active Population workforce survey, considered a more accurate appraisal of the labor market situation, is due out in late April.
The ministry underscored that affiliations grew across all regions and in the most "representative" sectors for the Spanish economy, notably hospitality, industry and construction.
"This result reflects our economy's good performance, points to a particularly active labor market, and ratifies the good forecasts for the coming months," said state secretary for Social Security, Tomás Burgos.
Meanwhile, the number of jobless claims in late March stood at 4,451,939 after dropping 60,214 from February. The March figure represents the biggest drop for this month since 2002, according to the ministry.
Unemployment levels dropped in all sectors, most particularly the services industry, and across all the regions except for the Basque Country.
Recommended Reading :
* 15 Million plus Expats contribute to Spain's Social Security
* Spain sees value of resale properties up 30% in 2014