Spain inaugurates Galicia high-speed line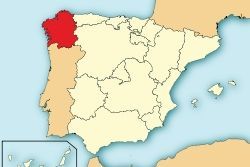 Spain added a further section to its already extensive high-speed network on April 18, with the opening of a new section of the Atlantic Corridor between Santiago de Compostela and Vigo, in Galicia. The A Coruña – Santiago section opened in 2009 and was electrified in 2011.
Work on the 155.6km line started in 2001 and included both upgrading sections of the existing line and the construction of a new alignment across a mountainous and sometimes densely-populated territory. Total investment to date exceeds €3bn, with €840m invested since 2012.
The new corridor cuts 21.8km off the original route, reducing the journey time to 1h 20min, 40 minutes faster than before the line opened and an improvement of 1h 40min compared with the 2001 journey time.
The line also adds capacity to the existing corridor as it is equipped with double track and electrified at 25kV 50Hz ac.
The new line has 37 tunnels totalling 59.2km, 38% of the total length. The longest is the 8.25km tunnel beneath Vigo which connects the line with the new Vigo-Urzaiz station. The line also has 32 major bridges, including a 2.4km viaduct across the valley of the River Sar.
Ten services per day will operate in each direction using Renfe class 121 EMUs, which already operate between A Coruña and Ourense via the Santiago – Ourense high-speed line.
The current maximum speed on the line is 200km/h, a limit imposed by the use of the national train protection system ASFA. Maximum commercial speed will be raised to 220km/h when ETCS is installed, and a €69m contract for this work was tendered in early April. This contract will also be used to extend ETCS coverage on the southern approach to Santiago station, the section where a class 730 train derailed in July 2013, killing 79 people.
A further increase to 250km/h is planned when the track gauge on the Ourense – Santiago and A Coruña – Vigo lines, is converted from 1668mm gauge to standard gauge. This is due to be implemented when the Madrid – Olmedo – Ourense high-speed line is completed.
The Madrid – Olmedo section of this standard-gauge line opened in late 2007, while the Ourense - Santiago section was completed in 2011. The Olmedo – Zamora section is due to be inaugurated in the next few months, according to the Ministry of Public Works and Transport.
Plans to extend the Atlantic corridor north from A Coruña to Ferrol and to the south from Vigo to the Portuguese border were shelved in 2011 due to budgetary restrictions. Under the current track configuration, international services from Porto cannot connect with the new high-speed services, as they have to serve different stations in Vigo: Guixar for the former and Urzaiz for the latter.
Recommended Reading :
* None of Spain's AVE high speed rail lines profitable
* Spain - France train operator fights to avoid bankruptcy