Murcia's San Javier Aiport : Not the best of legacies for Corvera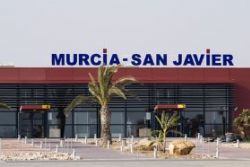 Arrivals at San Javier Airport suffered a further setback in March, with a fall of 25.6% compared to the same month last year, the 4th highest loss of all AENA Airports, according to official figures.
The only Airports to report worse figures were Albacete, Vitoria and Ceuta.
Between June and September passenger numbers fell below that of 2013, leaving little sign of optimism that the Airport will be likely to contribute the much-promised 2 Million passengers numbers when operations are finally transferred to the over-promised Corvera International Airport.
In March 2014 just 28,551 passengers arrived on 314 Aircraft at San Javier Airport.
2015 to date has seen a fall of 28% in visitor numbers.
Meanwhile, neighbouring Alicante-Elche Airport recorded 669,004 passengers in March - up 4.4% on March 2014.
By nationality. the Brits led the way with 264,335 passengers, followed by the Netherlands with 47,003; Norway, with 45,887; Germany, with 45,679; Belgium, with 37,741, and Sweden with 24,203 passengers, according to Efe.
Regarding the number of flights, the airport handled 4,737 flights in March, up 4.1% from March 2014, with the UK contributing 1,578 flights, Spain (1,139), Netherlands (292) , Germany (289), Norway (278), Belgium (275) and Algeria and Sweden (146). In January to March 2015, Alicante Airport registered 1,671,423 passengers, a 4.6% increase, and managed a total of 12,339 flights, up 1.9%.
A total of 14.3 million passengers passed through Airports in the AENA network in March, up 6.9% increase, and representing a continuous growth in the last 17 months, and an increase of 2.7% in aircraft movements.
Of the total, 9.5 million users were international flights, an increase of 7.2% over March 2014. Domestic passengers totaled 4.7 million, up 6.5%.
Recommended Reading :
* Only 14 of Spain's 48 Airports in profit
* Murcia's San Javier wins EU's best Airport award