Ryanair Flight to Spain encounters UFO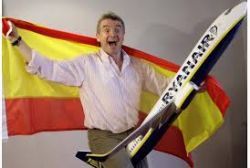 A Ryanair passenger claims that the Boeing 737 jumbo jet from Holland that they were riding narrowly missed hitting an alleged unidentified flying object (UFO) while the plane was on its way to Spain. The traveler filmed the encounter from the plane window.
The video was then posted on YouTube by the Lions Ground UFO group. The female passenger said the plane's pilot tried to avoid the UFO which appeared to be a small black object that shot at high speed within inches past the jet's wing, reports The Express.
The passenger was actually recording the view from her window when after four minutes of recording, the UFO appeared. Heathcliff, a member of the group, narrates, "The engines made a lot of noise and the pilot made suddenly a sharp manoeuvre. The UFO endangered the aircraft. A lot of panic was on that plane."
Heathcliff said the object was not a bird because it was flying too fast. Mirror readers were divided if the object seen in the video was a bird or not. In an online survey among readers, 49 percent believe it was just a bird, while 51 percent thought otherwise.
In admirable journalistic form, Lions Ground have uploaded several 'developments', surroundng the incident - including conspiracy theories - to Youtube.
Recommended Reading :
* FACUA demands Ryanair compensates passengers affected by striks
* Ryanair change of strategy sees profits bounce back in 2014