Catalonia's secession plan and how Spain would block it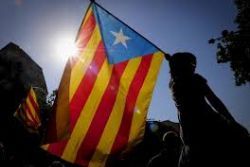 About 5.5 million Catalans will elect their regional parliament on Sunday in a vote that has been framed by separatist parties as a proxy referendum on independence.
Here is a list of questions surrounding the election and Catalonia's secessionist push:
WHY DO CATALANS WANT TO BE INDEPENDENT?
People who favor independence say Catalonia, which has its own language and culture, is a "nation" - not a "nationality" as recognized by the Spanish constitution - and that as such they should be allowed to have their own state.
They also say that Catalonia, one of Spain's wealthiest autonomous communities, is transferring too much in tax revenues to poorest regions and would be better off economically if it was independent.
IS THE VOTE AN ELECTION OR A REFERENDUM?
Catalans will elect the 135 members of their regional parliament for the next four years. However, in a bid to transform the election into a vote on independence, the main secessionist parties have agreed to run on a joint platform - "Junts Pel Si" (Together for Yes) - whose sole program is splitting from Spain.
WHAT IS EXPECTED TO HAPPEN ON SUNDAY?
Opinion polls show separatists will likely fall short of 50% of the votes but could still secure a majority of seats in the regional parliament.
A survey by Spain's most reliable pollster, the state-run Sociological Research Center (CIS), showed that separatist parties, including Junts pel Si and the more radical, left-wing CUP, achieving a combined vote of around 44% and 68-69 seats - the narrowest possible majority.
WHAT IS EXPECTED TO HAPPEN ON MONDAY?
Even if separatist parties win the election, it will take at least several days, possibly several weeks, before they move forward with their secessionist plan and the state steps in to block it.
HOW AND WHEN SEPARATISTS HOPE TO ACHIEVE INDEPENDENCE?
The secessionist plan promoted by Junts pel Si has four different steps.
- The first one would be a solemn declaration from the regional parliament that the independence process has started.
- The second would be to ask Catalans to take part to a constituent process fueled by public debates and leading to the approval of a new constitution by referendum.
- The third phase would see a national unity government building up the structures of the new state, like a treasury, a central bank or an army.
- The process, which should not exceed 18 months, would culminate into a declaration of independence.
HOW AND WHEN CAN THE SPANISH STATE STOP A CATALAN INDEPENDENCE?
The first two phases of the process are political and could be carried out within the limits of the Spanish and Catalan laws.
A referendum to approve the new constitution would however be blocked in court because it goes against the Spanish constitution, as would the structures of the new state and a declaration of independence.
The Spanish government has tabled an urgent reform of the constitutional court to give it enough clout to stop any unilateral move from the Catalan authorities.
The court already blocked this month a Catalan law that would have paved the way for the creation of a Catalan treasury.
WHAT'S THE END GAME?
All political analysts and most politicians believe the standoff could be resolved by a renewed dialogue between Catalan and Spanish authorities that would lead to a better tax deal and increased infrastructures spending for the region.
Read the timeline of Catalonia's bid for independence by clicking the link > HERE <
Many also say that a wide-ranging constitutional reform that would include specific articles to protect the Catalan language and culture and would be approved by a national referendum is also needed.
A poll from Catalan newspaper la Vanguardia showed that 63% of Catalan voters would back a new constitution or a more flexible interpretation of the existing one.
Recommended Reading :
* Bank of Spain warns Catalan independence would mean exit from Euro
* Catalonia could withhold its share of Spanish regional debt, Premier warns