Valcarcel sued over Corvera loan-guarantee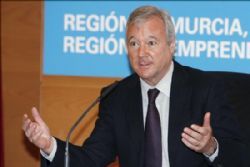 Former regional president Ramón Luis Valcárcel has been cited in a lawsuit for alleged corruption over the EU200 Mln loan guarantee for the concessionaire of Corvera International Airport.
Businessman Manuel Nunez filed the lawsuit back in September, asking for the courts to re-investigate the legality of the award of the loan guarantee.
Nunez, the entrepreneur behind Murcia's De-salination plant project also has expressed concerns and frustrations that Corvera Airport was afforded special privileges, which stretched the bounds of legality at great cost to the regional tax payer.
Recommended Reading :
* Corvera Airport : 3.5 Million passengers by 2025