Spain Installed No Wind Power for First Time Since 80s in 2015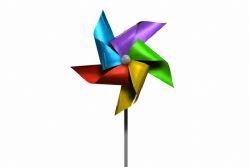 Spain didn't install a single megawatt of wind power capacity in 2015, the first time the industry has had a dead year since the 1980s.
Total installed capacity stalled at 22,988 megawatts, with wind covering 19% of power demand in Spain last year, the Spanish Wind Energy Association, known by its Spanish initials AEE, said Tuesday in a statement. Just 27 megawatts of new capacity has been installed since 2013, when a new payments system was introduced.
Spanish renewable energy companies that once reaped Europe's biggest subsidies have looked abroad for projects since the domestic market stagnated following a moratorium on support for new wind farms and solar parks in 2012. The standstill has left Spain needing an additional 6,400 megawatts of wind energy capacity by 2020 in order to meet binding European renewables targets, according to the association.
"The installation of more than 6,000 megawatts of wind power in 4 years has been done in Spain before thanks to regulations that favored it," the association said. "If certain aspects of the regulations were modified to give confidence back to investors and ease access to financing, it could be attempted again."
The industry group called on the government to consult with the wind sector on changes to auctioning arrangements, after an initial 500-megawatt auction yielded no subsidy for the technology. It said that was an "unexpected result that brought even more uncertainty to the already complicated situation of the wind sector."
The association called for an end to provisions in rules that allow the government to change the reasonable returns for projects every six years. It also said the government should hold auctions for the remaining 5,900 megawatts of wind power it needs as soon as possible.
Recommended Reading :
* Spain could miss 2020 Green targets
* Spanish court sides with Gov't over decree cutting renewables subsidies