Spain's PSOE Under Pressure to Choose Partner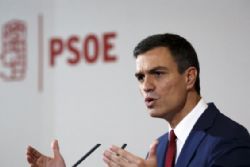 Socialist leader Pedro Sanchez came under fire from all sides on Wednesday as he tries to secure support to form a government without alienating factions within his party.
Sanchez has vowed to vote against Acting Prime Minister Mariano Rajoy if he tries to win parliament's backing for a second term, despite senior party figures calling for him to adopt a more conciliatory approach. Instead, Sanchez aims to lead his own administration, most likely with the support of anti-austerity group Podemos. To achieve that, he needs the backing of his party's federal committee which meets Saturday.
"We made a clear proposal, and so far we haven't gotten an answer," Podemos leader Pablo Iglesias said in an interview on Onda Cero radio. "Maybe there's a side of the Socialists that prefers the PP, rather than an alternative."
Some Socialist officials are concerned that Podemos's economic policies could damage Spain's recovery and that its ambivalence toward independence for Catalonia poses a threat to the country's integrity. ABC newspaper reported that former prime minister and Socialist heavyweight Felipe Gonzalez told a lunch meeting of diplomats he'd like Sanchez to abstain so that the PP can govern with the support of pro-market Ciudadanos.
Rajoy, who says he wants to lead a grand coalition, said in an interview with Telecinco that the Socialist leader must decide whether he'll stand with the constitutional parties or turn to Podemos, a move that would also require abstentions from Catalan or Basque nationalists.
"We agree on the major issues: the unity of the Spain, more reforms, cementing the recovery," he said in an interview on Telecinco. "The other possibility is the Socialists join Podemos, or fresh elections, which I don't think would be positive."
Iglesias said that while his offer of support remains on the table for now, time "isn't infinite."
Recommended Reading :
* Spain's parties to discuss new Gov't with King next week
* Spain's Socialists tell Rajoy to form Gov't or move aside