Corvera Airport Passenger Forecast Revised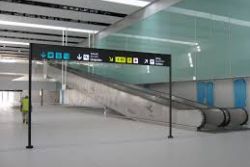 The regional government of Murcia this week revised their forecast for passenger numbers at the yet to be opened Corvera Airport to 'between 2.5 and 3.5 Million by the year 2025'.
In December the same Ministry put the figure at a definitive 3.5 Million, indicating a "slippage" of 1 Million passengers per year - more than one-third !
Is this subtle 'revision' an indication that the Government has finally realised that the facility is not as attractive to as many would-be passengers as they would have liked ?
At the same time, the Minister of Public Works and Infrastructure, Francisco Barnabas, responded to a question put to him by Ciudadanos, where he also confirmed that of the 20 parties approached to operate the airport 7 have expressed an interest, 8 have declined to participate and 5 have not yet responded.
Recommended Reading :
* Corvera Airport : 3.5 Million Passengers by 2025 ?