Spanish taxis block central Madrid in car-sharing protest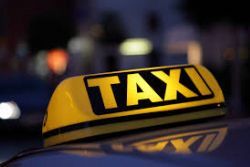 More than a thousand Spanish taxi drivers blocked a central Madrid boulevard on Thursday, beeping horns and setting off firecrackers, to protest plans to open the country to greater competition from ride-hailing and car-sharing services.
Uber and other companies such as Cabify face demonstrations from taxi drivers worldwide for operating services which match private vehicle owners with customers.
Uber cannot currently operate in Spain while authorities decide their legal status, though other collaborative economy services, such as accommodation company Airbnb, are operating.
Spain's regulatory agency CNMC is expected to publish a non-binding recommendation next week which will call for greater freedom for the collaborative economy.
"Who are the CNMC defending? We are a public service and we're independent while they're defending multi-nationals," said taxi driver Marta Fernandez, 42, during the protest which shut off traffic for at least two hours.
Slackening the rules would pitch the heavily-regulated taxi sector, which requires licenses and closely monitored quality and safety controls, against untested drivers which operate with little, or no, restrictions, taxi unions say.
The Spanish regulator says, meanwhile, that the shared economy structure offers freedom of choice to consumers in terms of quality and price with which traditional businesses should be encouraged to compete.
"The CNMC's function within the Spanish society is to defend these freedoms to the benefit of the people," president of the CNMC Jose Maria Marin Quemada said in statement to Reuters.
Recommended Reading :
* Spanish regulator urges removal of obstacle to Uber's return
* Study into Spain's taxi fares