New Refugees Arrive in Spain Under EU Quotas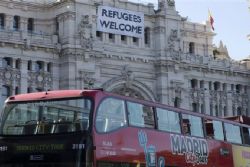 A group of 19 refugees arrived in Spain from Greece on Wednesday under the EU's refugee redistribution quotas, the Spanish Interior Ministry said on its website.
This is the 4th group of refugees in the last eight days, the ministry said. There are 14 migrants from Syria and five from Iraq. They will be sent to the city of Salamanca and the Navarre region. Spain has accepted 105 refugees since 2015 under the quota system.
A protester called by Stop Mare Mortum and "Unity against Fascism and Racism" platforms, holds a poster reading Stop Racism in Catalan during the European March for Refugee Rights in Barcelona on March 19, 2016.
The Spanish government has pledged to take about 16,000 refugees in 2016-2017 under the EU quota distribution system. Spain is expected to take 586 people by the end of June.
The EU is struggling with an enormous flow of migrants entering the bloc mainly by crossing the Mediterranean Sea. The refugees are fleeing from conflicts and violence in the Middle East and North Africa.
Recommended Reading :
* Amnesty says Spain asylum system obsolete
* Telefonica unveils portal to help new refugees in Spain