Wildfires destroy 9,000 acres in Galicia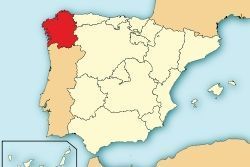 Wildfires have spread across 3,700 hectares (9,120 acres) of land in the northern Spanish region of Galicia.
Earlier media reports had claimed that some 1,200 hectares of forest had been affected by the fires.
There are currently five active fires that could potentially threat residential areas, the Faro de Vigo newspaper reported. Strong 100 kilometer per hour (62 miles per hour) wind aggravates the situation, spreading the fires further.
Recommended Reading :
* Forest fires sweep Northern Spain despite winter rain
* Climate change threatens Spanish tourism