Apple Pay launches in Spain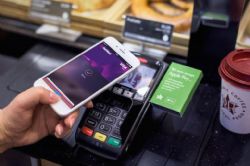 Apple has launched its mobile payments service Apple Pay in Spain. It supports cards from Banco Santander, Carrefour, Ticket Restaurant and American Express. At the moment, Apple Pay in Spain can be used at 27 major retailers, including Media Markt and Bershka.
The launch of Apple Pay in Spain means the mobile payments service is now available in four European countries, as it has also launched in the United Kingdom, France and Switzerland. According to Apple, users will soon be able to add customer cards to their iOS Wallet app, so they can easily collect and redeem loyalty points.
'Not a good thing for retailers and customers'
Spanish tech journalist Pablo Valerio wrote a blog post about how Apple Pay in Spain may be a good thing for iPhone users, but how it's not for merchants and ultimately customers. He explains how many banks in Spain have been offering POS payment apps using NFC-enabled Android phones, as iPhone users have been blocked because Apple won't allow another payments app to access the iPhone's NFC features.
"Now Apple has built itself a monopoly on iPhone POS payments and charges a hefty fee to banks and retailers to join Apple Pay", he writes. "On top of a substantial setup fee – which goes between 50,000 and 100,000 dollars – it has been reported that Apple charges 0.15 percent per transaction. And that has to come from the fees banks and credit card processors charge merchants."
Apple Pay in Germany ?
Spain won't be the last European country where Apple Pay is active for long, as rumors go Germany is the next country on Apple's list. In October, the company posted an info page in German, thereby suggesting it will launch in Germany soon.
Recommended Reading :
* Windows phone share drops to 0.6% in Spain
* Spain's first smartphone manufacturer pulls the plug