Murcia's Corvera Airport to take off in 2017 ?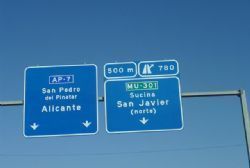 The Regional Government has begun the process to finally bring Corvera Airport into operation - almost 5 years after the works being completed and an investment of around EU270 Mln.
Up until now the deal has hung on the cessation of commercial flights into the Region's older San Javier Airport. This was made all the more contentious following AENA's recent investment of some EU70 Mln in creating a second runway at the existing facility.
This has resulted in lengthy compensation and eventual closure agreement between the Regional and National Governments and AENA.
However, an unnamed Government source has told the press that AENA has now agreed to accept EU45 Mln in compensation in return for ceasing commercial operations at San Javier Airport - a move which would essentially pave the way for Corvera Airport to finally open.
Although completed in 2012, the concept of a second airport in Murcia was originally conceived in July 2001 by the Sociedad Aeropuertos de Murcia (Aeromur). In May 2003 the Ministry of Environment approved the environmental impact study and the Ministry of Public Works approved the declaration of general interest.
Moving forwards, the final plan airport for the Airport was presented by the Regional Government in September 2005, to be approved 6 months later.
Aeromur then won their application to become the concessionaire for construction and operation over a period of 40 years in April 2007.
The Region then approved the financing of the works at EU200 Mln through La Caixa and Espirito Santo, among others.
Then in 2013 - after construction at the airport had been finalized - the Regional Government ended the Concession agreement with Aeromur due to their inability to bring the facility into operation.
Following a number of unsuccessful appeals, mid-2016 saw the Supreme Court force Aeromur to hand the Keys of Corvera Airport back to Region.
Is 2017 going to be 'an interesting year' for Corvera, or yet another 12 months of mis-placed hope and broken deadlines ?
Recommended Reading :
* Murcia's San Javier airport passenger numbers up 2.7%
* New route launched San Javier airport, will Corvera ever open ?