209 people drowned in Spain in first half of 2017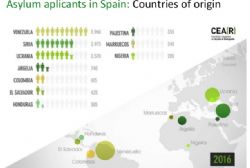 A total of 209 people drowned in Spain during the first six months of 2017, according to figures published by the Spanish Royal Federation of Lifeguards (RFESS) on Monday.
The RFESS figures show that the number of drownings increased sharply in hot month of June with 69 registered in the month alone.
About half of the deaths happened on beaches, according to the RFESS report.
But in an interview on Spanish radio station Cadena Copa, Jessica Pino, who drew up the report, noted that 94 percent of the deaths on beaches happened on beaches without deployment of lifeguards.
"A death by drowning is just a relevant as a death in a road accident," she said, stressing that in Spain neither beaches nor swimming pools "had vigilance" to protect bathers.
The RFESS has also drawn up a profile of the average drowning victim, explaining that 82 percent of victims are male, and 68 percent are aged above 35.
Recommended Reading :
* 2 Weeks into 2017, Mediterranean migrant deaths rise on last year
* Investigation into death of 15 migrants on Ceuta beach dropped