El Hierro Volcano : 6th October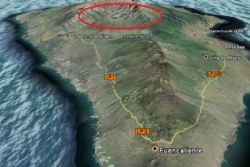 Seismic activity on the Volcanic Canary Island of El Hierro over the last 24 hours has produced 'just' 11 tremors, however 2 of them measured 2.8 and 3.2 in magnitude and were recorded at a depth of 12km. Activity seems to have moved over the last week from a depth of 20km to much closer to the surface.
However, a 'Yellow' state of alert is being maintained and scientists and emergency evacuation personnel continue to monitor the situation.
Meanwhile, a Spanish scientist undertaking research for kiel University has revealed that Volcanic activity may have taken place underneath the island unnoticed, as recently as 10 - 12 years ago. Samples taken from the Ocean floor off Fuencaliente show that new lava flows extended for 12kms, signalling that Volcanic activity may have been occurring for much longer than was previously thought.
Elsewhere, Telefonica has announced that they have a permanent team of 25 Engineers on the Island who are being supported by many more staff in order to ensure that systems remain 100% operational in the event of an emergency being declared. At the moment the telephone system arrives to the Island by cable from neighbouring La Gomera, but in the event of seismic activity on the ocean floor disrupting this, a satellite system can be deployed as a back-up.
A number of Industrial Batteries and generator have also been issued to all telephone exchanges on the island to provide electricity in the event of a power cut.